STWS Healing Partners Going to Europe
To Work With Refugees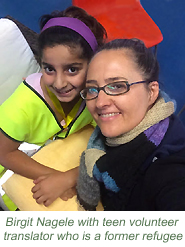 Dear friends,
In October 2015, STWS Partner, Reflexologist and Yoga teacher Birgit Nagele, who has volunteered her services to STWS program participants, traveled to Vienna as a volunteer to work with refugee children, their parents and volunteers. Birgit served at Vienna Westbahnhof (Kids Cornet Connect Day Care Center) to help reduce stress by offering Hand Reflexology and the kind of Breath Work she learned from STWS Chairman of the Board, world-renowned Integrative Psychiatrist and Breathwork and Meditation teacher Dr. Richard Brown.
Birgit worked with children from Afghanistan, Syria, and Iraq and their parents as well as the local volunteers. One of Kid's Corner's founders, Roland R. told Birgit on her last day, "You are really good at this, we will miss you."
Because of this kind of feedback, Birgit is returning this month with STWS Partner Wendy Henry, Licensed Acupuncturist and Registered National Acupuncture Detoxification Association Trainer and Amrit Yoga Teacher Shawn Cuddy. Wendy is a co-founder of CRREW, a group that has have offered acupuncture and other holistic services to those affected by 9/11 and Super Storm Sandy since 9/12. Wendy has also worked extensively with people affected by Hurricanes Katrina, Rita, Wilma and Gustav in the Gulf of Mexico area, as well as those effected by the BP Oil Spill.
The plan is to offer much needed respite to recent refugee children and adults in Vienna and the volunteers that have been tirelessly working for months. They will be teaching self-reflexology, acupressure techniques and yoga for both stress reduction and to promote health and wellness and they will be providing individual sessions.
Birgit, Wendy and Shawn want to be in Vienna from Dec. 23rd through Jan. 3
. They need $9000 to be able to do so.
STWS is contributing to their efforts
and collecting contributions to help get them there. We invite you to join us in helping Birgit, accompanied by Wendy and Shawn, go back to Vienna. You can do so by going to
our DONATE page
to make a donation and earmark it to help the refugees in Europe.
Through STWS your contribution is tax-deductible
.
STWS Executive Director Jose Mestre, a former refugee himself, works as a psychotherapist in Queens with refugees and immigrants. Queens County happens to be the most diverse county in the whole world. Jose recently said, "Experiencing the diversity and challenges and resilience of the people I serve every day reminds me that America is about immigrants, refugees and people fleeing persecution. It's one of the things that makes us great. I feel very motivated to help them adjust to a new culture, a new way of life."
Birgit, Wendy and Shawn feel the same way about helping the refugees in Europe adjust to a new culture, a new way of life and a new beginning
. We invite you to make part of your holiday giving a tax-deductible contribution to the refugees and their children in Europe. Please go to
our DONATE page
to contribute.
On behalf of Birgit, Wendy, and Shawn we thank you in advance for your generosity.
The STWS Team
STWS Yoga By Donation Program Is Greatly Expanded